Tragedy awaits Woo Hyun when the grandmother who raised him dies, leaving only Seul Bi to comfort him. Because of the necklace connection (his biological mother had given it to him when he was a child) his mother reveals herself to him at a dramatic moment when he is grieving the loss of his grandmother, and his mother ends up being Sung Yeol's stepmother, as well as the "Ethics Teacher" in their high school. ("It's A Small World After All!"). Woo Hyun is shocked and angry at her at first and won't take any help she offers to him, even financial; he becomes determined to finish high school while keeping the rice cake business running and successful. Seul Bi rounds up support for him in this endeavor through their true friends at the school, and even some of the bully kids are moved to help out, thereby becoming reformed.
However, the school authorities step in and try to separate Seul Bi from Woo Hyun, saying it's not appropriate for two teenagers, a boy and a girl, to live together without an adult present. All the revelations and the angst begin to fray Sung Yeol's father's second marriage to Woo Hyun's biological mom, and Sung Yeol blames Woo Hyun for their troubles. The whole situation becomes a huge mess -- and the adults meddling in their lives only seem to make the situation worse. Sunbae interferes as well, jealous over the affection Seul Bi feels for all the humans, despite their flaws.
Then some students at the school begin to solve the puzzle of Seul Bi's incredible origins, because of the strange things that take place when they are around her. Each time she uses her powers she weakens even more, risking her own human life. Will anyone rally around her, or will she be destroyed?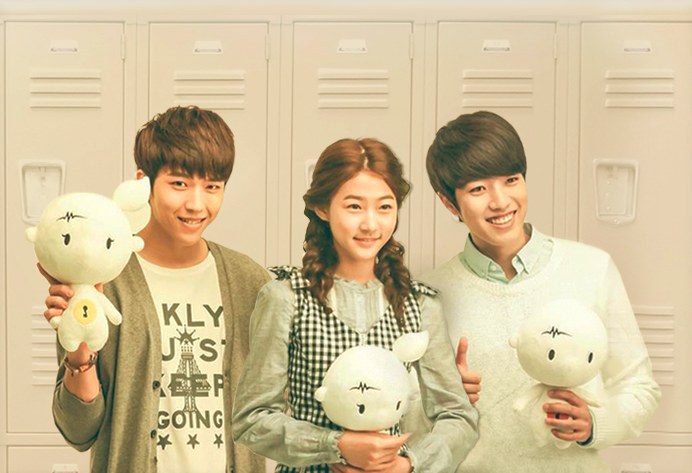 High School - Love On
was incredibly popular on the online sites. It even surpassed its competition in the teen department at the time,
Pinocchio
. I think it deals with issues that are universal to kids today: bullying, broken homes, divorce, financial stress, romantic rivalries, school struggles, friendships, and the death of a loved one which leaves a void in a kid's life. Although it is focused primarily on teenagers I found the show incredibly meaningful and beautiful. It's also pretty wholesome; the fact that the two male leads in real life were twenty-four years old, and the female lead was only fourteen years old, guaranteed that parents wouldn't have to be concerned about any hanky-panky scenes. The soundtrack is also darling, I especially loved the little waltz tune that Seul Bi danced to in Episode One!
The drama has something for both young people and older people to enjoy. The characters are unforgettable.