A rather complicated plot surrounding employees who work professionally at Incheon International Airport in South Korea,
Where Stars Land
(2018) remained interesting to me on the sheer emotional power of the actors' often mystical, complex performances, especially that of the main male protagonist played by Lee Je Hoon (
Signal
,
Tomorrow With You
, film
Architecture 101
). He was a character who struggled with enormous stress due to an unusual physical disability (a type of character which we often do not see portrayed in Korean dramas, not as much as we probably should, anyway). This was often deeper than the occasional blind girl story in Korean dramas, or showcasing a male character who is hard of hearing or emotionally disturbed / intellectually challenged;
Where Stars Land
goes far beyond those common stereotypes, even touching onto the science fiction realm.
The sadness we feel watching the main male character's personal struggles was tempered during the story by the growing love and compassion of the main female protagonist for him, played delightfully well by the always-worth-watching, lovely Chae Soo Bin (
I'm Not A Robot
,
Strongest Deliveryman
,
Moonlight Drawn By Clouds
,
A Piece Of Your Mind
). She often brought a gentle touch of ironic comedy to the story, when much needed. I often wanted to hug her through the screen because she was so darling!
Director Shin Woo Cheol and screenwriter Kang Eun Kyung had previously worked together in the masterpiece 2013 drama series, the unforgettable
Gu Family Book
. Though I don't think they topped that beauty here, there was still enough to keep me glued to my TV set watching.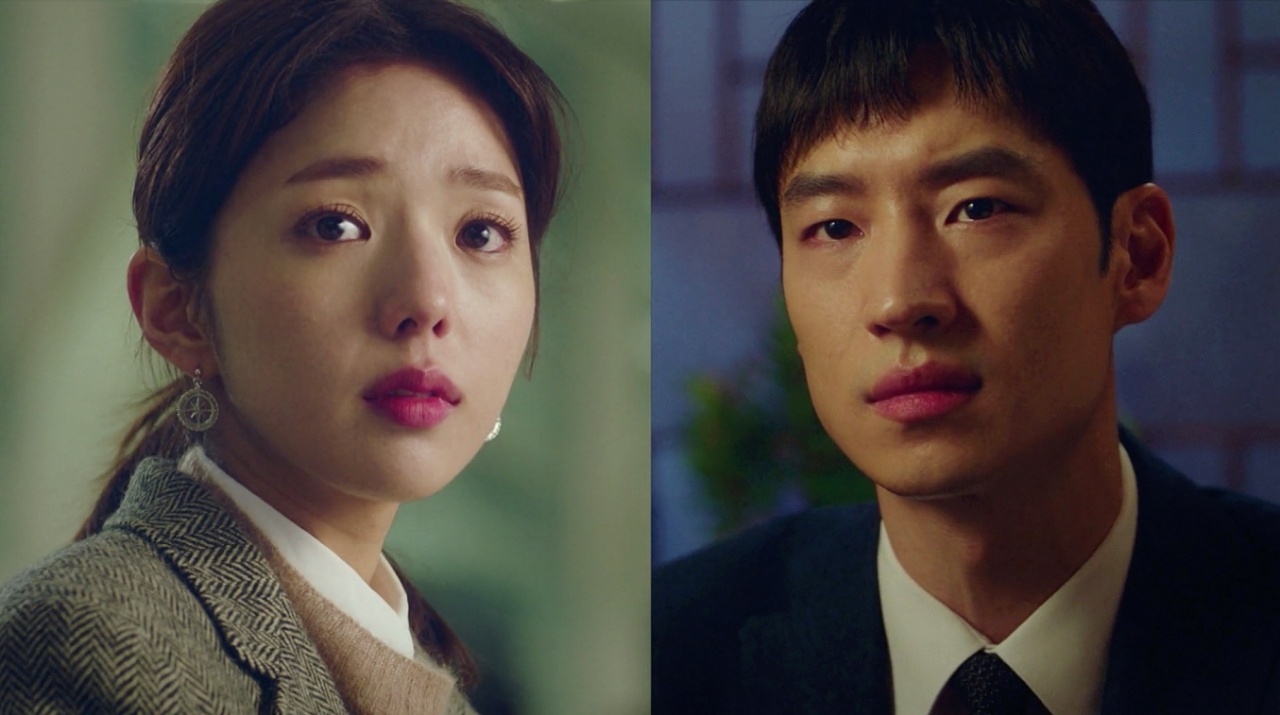 As is custom in Korean dramas, we often see interlaced with the younger characters' stories a complementary sub-plot featuring older actors who've been around twenty years or more, and here these two older characters are played by the always handsome Lee Dong Gun (
Lovers In Paris
,
Stained Glass
,
Ruler Of Your Own World
,
Sang-doo Let's Go To School
,
Sketch
,
Angel's last Mission: Love
,
Super Daddy 10
,
Friends
,
Perhaps Love
, etc.) and stunning mature actress Kim Ji Soo (with a huge resume going back to the early 90's!). Sometimes I became more interested in their relationship in this drama, though, which kind of has its drawbacks overall because the audience should always find the two main characters the
most
compelling in the story. K-drama writers often must go through a delicate balancing act in achieving a good ensemble dynamic among various characters, younger and older.

Drawing up in the rear is a cute couple playing security guards at the airport, Kim Kyung Nam (
Faith
,
Strongest Deliveryman
) and Lee Soo Kyung (currently running
Law School
). I saw comments online from many fans that they enjoyed them even more than the other two couples! Also, as a type of second male lead also interested in our female lead (there ALWAYS has to be one!) was newer actor Ro Woon, who is part of the boy idol singing group SF9. Oh well, there should be multiple characters for everyone in an audience to enjoy
,
right?
;)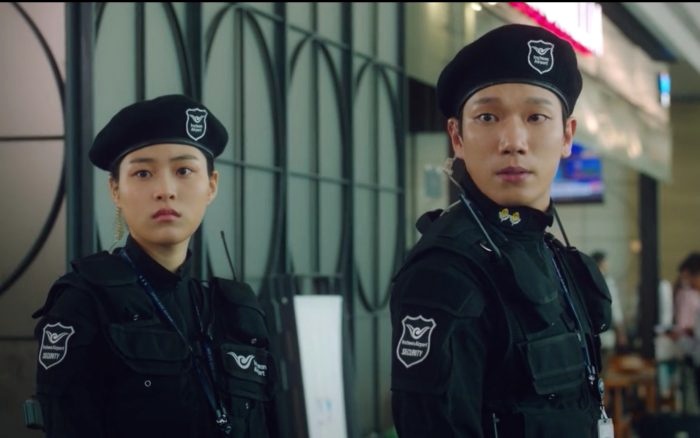 The Story
:
We are introduced to a very withdrawn, quiet character named Lee Soo Yeon (Lee Je Hoon) who had graduated from prestigious KAIST (Korea Advanced Institute of Science and Technology). He begins management and security work at Incheon International Airport, and gives himself a personal goal of six months to get used to working there, before he decides whether or not he will stay or find another position somewhere else.
Lee Soo Yeon is hard to approach emotionally; he rarely smiles, but in his own way seems to care about people, though he purposely does not let on in any consistent way. We are soon to find out why. He had been riding a motorcycle in his youth and had been hit tragically by a car and become disabled, and was given a new type of advanced metal bionic arm and leg, to recover as much as possible from his horrible injuries! (In his youth Soo Yeon was played by the always wonderful young actor Nam Da Reum from
The Suspicious Housekeeper
and
Goblin
and
While You Were Sleeping
and
Radio Romance
and
Start Up
, among others; that kid sure gets around, lol!). As he grows up he seems to develop super-human qualities in his bionic arm and leg, enough to do incredible self-defense work when required.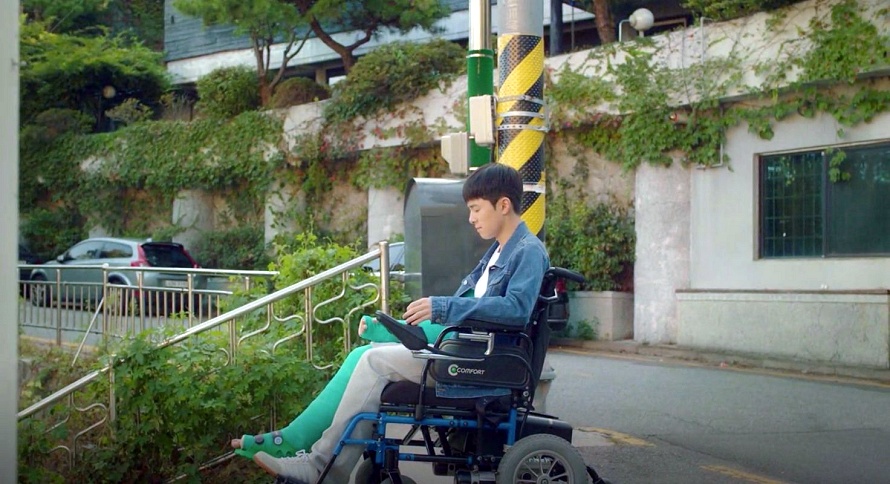 While working at his new job at the airport, the grownup Soo Yeon meets the grown-up Han Yeo Reum (Chae Soo Bin), who has been working there longer than him, but in a different department at first. He remembers her instantly as a girl he had dramatically rescued from being killed by a flying car, but she does not remember him, although he seems vaguely familiar to her. (Turns out she flashbacks to a moment as a young adult when a man in a hoodie had saved her life, and even though she only saw a small part of his face it seems Soo Yeon still reminds her of this man).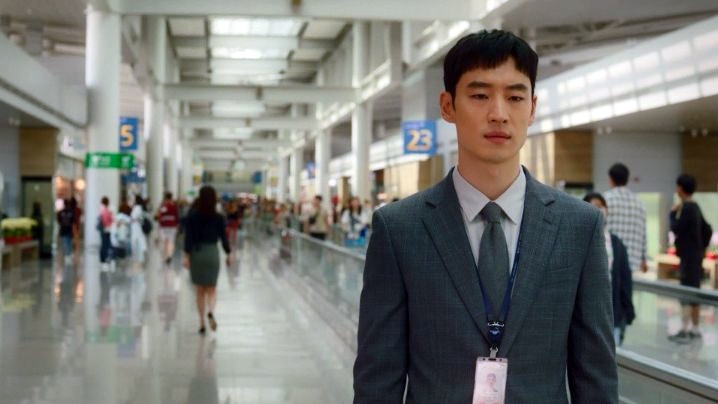 Yeo Reum is sent to work with the passenger service and security team which includes Soo Yeon. She aims to be a perfectionist at her job, but her reality is a little different: she is often clumsy and makes frequent mistakes, though at least she is open to learning from them to perform better in future. Sometimes she also has an uncanny ability to sense security troubles that are about to take place before they do; for instance when she sees something suspicious being dumped into an airport trash can, and there proves to be criminal intent there. Or when she senses who a "person of interest" is ahead of everyone else, an adult man with severe autism whom his distressed mother had lost in the airport.
A Bionic Arm Sure Comes In Handy At Times!
Unlike fellow co-worker Soo Yeon, Yeo Reum smiles a lot, and can laugh at the absurdities of life. She wonders why he is so cold all the time, and has no idea about his arm and leg disabilities for awhile, or that they had met before and he had secretly liked her. And in fact, in yet another case, he actually saves her life again using his metal arm to block a blow from a troubled airport passenger. All this secrecy begins to intrigue her and she begins to have a personal romantic interest in him. He doesn't outwardly let on at first that this has touched his heart, but in some great little scenes we begin to realize how very human Soo Yeon actually is, despite an arm and a leg that are largely controlled by technology!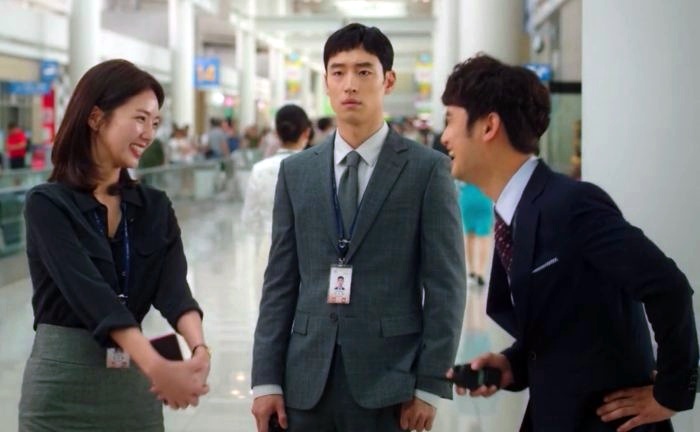 Due to some restructuring of airport employees, both Soo Yeon and Yeo Reum are eventually transferred to a more prestigious area of the airport security and administration team buildings. The two head honchos in charge of the team are airport planning manager Seo In Woo (Lee Dong Gun) and passenger services manager Yang Seo Koon (Kim Ji Soo). Both are very attractive older employees who obviously share a history. Meanwhile, Soo Yeon and Yeo Reum often meet at the same little cafe they fancy, called, you guessed it, "Where Stars Land", and their relationship starts to deepen. The owner of this cafe is actually a medical doctor who is looking for a miracle cure to heal Soo Yeon completely.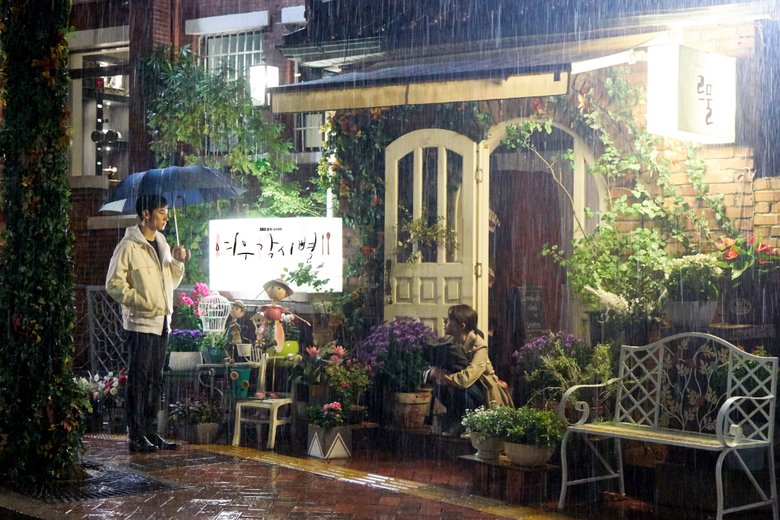 Eventually we also discover that Seo In Woo was the person who had hit Soo Yeon with his car in that motorcycle accident that had caused Soo Yeon to lose the use of two limbs! Not only that, but that they are actually step-brothers; his father and Soo Yeon's mother (Kim Yeo Jin, whom I had loved as the doomed Mom in
Angel Eyes
) had married. Naturally there is some repressed anguish and anger between these two men that surfaces on occasion. They mostly remain professional at work but under the surface some old issues cause troubles at times.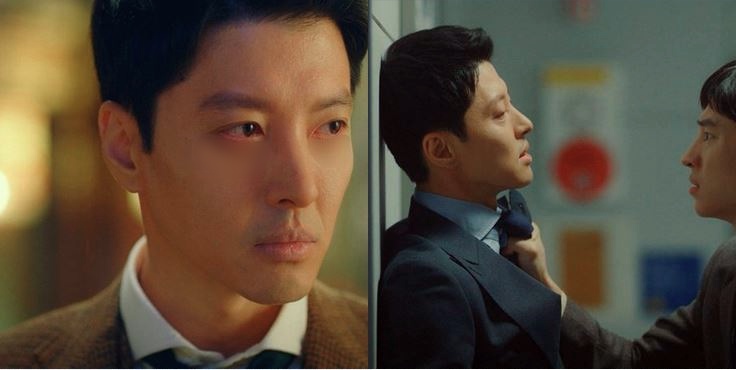 The closer romantically Soo Yeon and Yeo Reum become, the more Yeo Reum becomes concerned about Soo Yoon's long term health, both physical and mental. Then it becomes apparent that Soo Yeon has a big decision to make: his "bionic" arm and leg devices were not meant to be permanent; he was told that after a few years it could risk his very life to continue to use them, instead of giving them up eventually and living the rest of his life in a wheelchair. This to Soo Yeon is a fate worse than death! Especially now that he openly loves Yeo Reum.
Yeo Reum tells him that she will be his arms and his legs! However, Soo Yeon knows all too well what kind of burdens that will place on her life if they make their relationship a permanent one. In one tear-filled scene he becomes determined to look for alternatives, for a miracle, essentially. Will he find one, or is this young couple doomed to be parted by complete disability or death?