Another fun reason to watch
On Air
is because of all the cameo appearances by different stars playing themselves as actors and actresses. It's a challenge to play "Spot the Celebrity" in each episode. The series features 27
star cameo appearances
, among them Jeon Do-yeon, Kim Jung-eun, Lee Seo-jin, Kim Min-joon and Yoon Se-ah, who had previously worked with writer Kim Eun-sook and director Shin Woo-chul on
Lovers in Paris
, Lovers in Prague
, and
Lovers
. Song Yun-ah also asked her celebrity friends to appear on the show, namely Lee Hyori, Kang Hye-jung, Uhm Ji-won, and comedian Kim Je-dong. If you love Korean actors like I do you will smile at everyone you recognize when they turn up.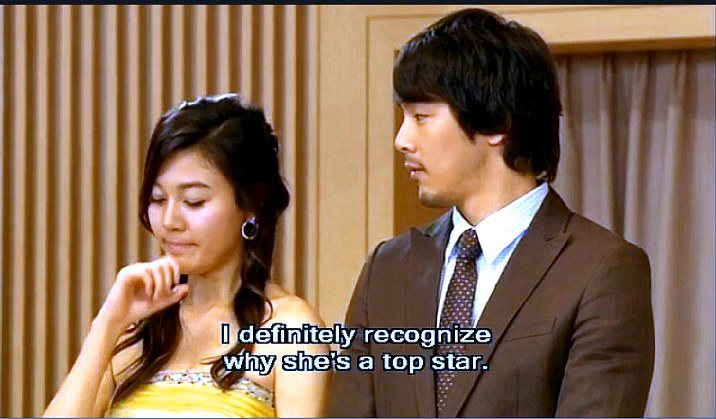 Usually many of the side characters in dramas add a lot of spice to a drama
,
but here I have to be honest: many of them bored me or tried my patience. I kept feeling they were wasting time that could be better utilized showing more romantic scenes or more behind the scenes about drama-making. There seemed to be quite a few older Ahjummas in this show who had thorns in their characters and did nothing but complain and meddle, and I truthfully would just fast forward through their scenes. I understand the industry wants to give roles to as many actors and actresses as possible, of many age ranges, but the main story of a drama shouldn't be put on the side-burner to accommodate them.
Every once in awhile and go back and revisit favorite scenes in this drama
On Air
. It's really quite enjoyable overall, and if you have any interest at all in how K-dramas are produced then you should definitely check it out.
~~~~~~~~~~~~~~~
HOME TO KOREAN DRAMA REVIEWS