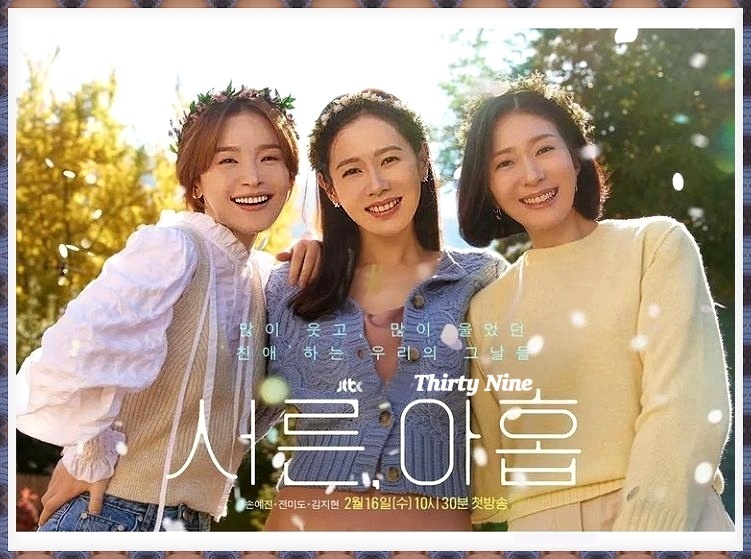 Thirty Nine
서른, 아홉
jtbc (2022) 12 Episodes
Female Friendship Melodrama

Grade: A
Korean Drama Review by Jill, USA
(Some Spoilers)


Playing: A Peony (OST Piano Solo Version)
Composer: Kwon Young Chan
Thirty Nine (2022) is a Korean drama series directed by the excellent Kim Sang Ho (Can You Hear My Heart?, When A Man Loves), and written by the enigmatic Yoo Yeong Ah (Encounter). Director Kim took into his project Super Star actress Ye Jin Son (my fav actress for two decades, starring in the film masterpieces The Classic, A Moment To Remember, and April Snow, plus perennial favorite K-dramas like Summer Scent, Alone In Love, Personal Taste, Shark, Something In The Rain), even though she was busy preparing for her real life nuptials with actor Hyun Bin, her co-star in the worldwide hit drama Crash Landing On You.

Ye Jin was accompanied by two exceptional female thespians, who played her best friends: Jeon Mi Do (Hospital Playlist) and Kim Ji Hyun (The Smile Has Left Your Eyes). This series also features the dynamic supporting actors Yeon Woo Jin (Arang And The Magistrate, When A Man Loves) playing Ye Jin's boyfriend in the story, with Lee Mu Saeng (The Crowned Clown) playing an entertainment executive, and Lee Tae Hwan (Pride and Prejudice, W), playing a chef. Because of this great cast the series couldn't help but be quite promising in its outlook. In addition, it only lasted twelve episodes, while most Korean dramas are between sixteen and twenty episodes long. (I confess I really love shorter K-dramas and wish more people would give them a chance!). This shorter length should attract newbies to Korean dramas, especially, to sample a nice K-drama for the first time, and to get used to watching foreign TV series with subtitles, with less intimidation involved compared to the longer series. Since this drama is slightly peppered with feminism it seems quite modern, compared to many older K-dramas where same sex friendships were often emphasized with more routine, predictable, old-fashioned subtleties and values. This might attract a younger crowd to watch it, too.



Do Not Leave This Earth Without Watching Ye Jin Son In Something!

The Story:

Thirty Nine tells the story of three 39-year-old ladies who have been friends since their teens: Cha Mi Jo (Ye Jin Son), a dermatologist working in her own clinic in Gangnam, but who often suffers from unexplained (at first!) panic attacks; Jeong Chan Yeong (Jeon Mi Do), an acting teacher who really desired to be an actress first, and who is caught up in an infidelity trap, while trying to extricate herself from it; and Jang Joo Hee (Kim Ji Hyun), a cosmetics company manager who hates her job but who tries to accept life with grace. Then, while the three of them approach age forty, and are preoccupied with their personal and professional problems, they suddenly have to deal with a serious disease that ultimately leads to the death of one of them. This plot theme is revealed very soon in the drama, so you, the audience, have time to prepare emotionally for the inevitable tragedy.



Through this series, scriptwriter Yoo Yeong Ah has once again shown that she is an empathetic author, capable of writing complex stories about fascinating older characters. She did not hesitate to emphasize the main conflict from the start of the series, even though she knew some potential audience members would take a hike and not watch (their loss) because of the death of a main character. This revelation about the upcoming death of one of the ladies raises the tension of the story tenfold: a bold and risky act for a series with only twelve episodes! However, the ups and downs of this tension managed to be maintained in a surprisingly stable manner, in a compelling presentation throughout the story. The flashbacks at the beginning of each episode contain the necessary information required for the audience to understand the three girls' growing relationship over the years, and they encourage the audience to be able to feel a certain deeply emotional attachment to them. Issues of family and friendship and romance in this drama are strung together into a fast-paced plot that is not long-winded. Despite the dips into romance, this is essentially a love story between the three women friends, a tale that is far from cliché, a rarity in the K-drama world.



Wow! Cell Phones Have Really Improved In Seventeen Years!

There are even many scenes of humor in this K-drama, interwoven into the overall sad story of loss. South Korean dramas almost always feature this wonderful mix of sadness and humor. It's one of the main qualities of K-dramas which keep me coming back for more, year in and year out! In one scene I am laughing, in the very next one I am crying!



In terms of acting, Ye Jin Son, as Cha Mi Jo, is the real center of attention here, and delivered a very mature performance. Some of her greatest scenes in the drama occur when her character meets her birth mother for the first time, and learns that her rich adoptive parents have been paying her off for years! Ye Jin's character Mi Jo is paired romantically with a younger male character named Kim Seon U, another dermatologist (the always compelling actor Yeon Woo Jin), who managed to make their chemistry gentle but realistic. Although Ye Jin's role is quite dominant, other players bring up the rear very well too, especially actress Kim Ji Hyun, who plays the friend Jang Joo Hee, the woman who is dying. Also, since playing on the popular Hospital Playlist, actress Jeon Mi Do, playing the third female friend named Jeong Chan Yeong, has become widely known in the K-drama world and is charming here. Her role as a theater teacher (although really wanting to be a professional actress instead) in this series is a perfect fit for her perky, attractive real life personality. She is delightful in the role. You cheer her on as her acting ambitions seem to be heading for fruition against all odds.



Good acting would certainly be in vain without a proper cinematic background presentation. The combination of beautiful cinematography here, with the lovely music OST in this series, is presented with a precise and glowing rhythm that is just about perfect. Viewers who are used to enjoying a Korean drama series filmed at a slower tempo will probably feel overwhelmed at the beginning of this story, since it hops along rather briskly at first. On the other hand, viewers who don't like a more sluggish pattern of storytelling will be very satisfied with this one.



Thirty Nine is a very well written, intimate female friendship story, presented by players with mature experience and talents. This drama depicts a quiet spectacle of emotions, with a stunning rhythm to it featuring these exquisite actresses. They had great chemistry together. Check it out and see if it is your cuppa tea. This series can be accessed in the free area at this link HERE. Enjoy!



~~~~~~~~~~~~

Return To Kdramalove Drama Index

~~~~~~~~~~~~~

Always a top pro, Ye Jin Son even manages to
get married while filming this drama!
Enjoy Motherhood, too!