KDRAMALOVE KOREAN DRAMA REVIEWS
Secret Investigation Record
aka

Secret Book
aka
Joseon X-Files
(2010)
기찰비록 tvN 12 Episodes at 45 Minutes Each
Historical, Crime,
Grade: C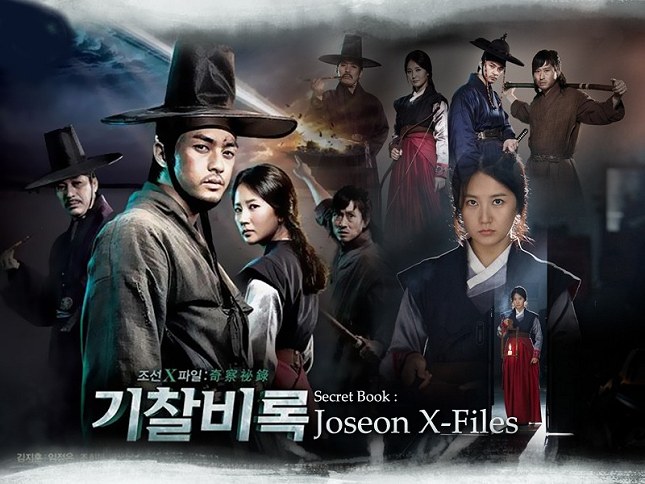 Korean Drama Review by Jill, USA
~~~~~~~~~~~~~~
I think actor Kim Ji Hoon is one of the most handsome Korean actors, he's Alpha Male material (none of this flower boy stuff!), has been through his army requirement, and he should be getting many more leading man roles than he has recently. Plus he often makes me laugh with his bearing and his facial feature expressions (he was hilarious at an awards ceremony recently where he tongue in cheek made fun of actress Kim So Ra's ugly flower dress - what a hoot!), and I loved him in Stars Falling From The Sky and Flower Boy Next Door so I thought I'd check this short K-drama out since it's only twelve episodes and wouldn't take up much of my time. I have never even seen any original X-Files shows so this was all new to me.

The drama wasn't bad, but then again neither was it outstanding. I don't think it had a big budget and may have been cut short due to low ratings, given it only has twelve episodes and a rather open ending where you have to use your own imagination to figure out what you think happens to the characters. Many people hate that, others love it.

The setting is the Joseon era during the reign of King Gwanghae. After he sees his mentor executed for telling the truth about suspicious natural phenomena that he has witnessed, Ji Hoon's character, a detective named Hyung Do Kim, is out to research the facts about what really happened, and who exactly is threatened enough by the reports to kill a respectable man. He is commissioned to report back to King Gwanghae eventually when he finishes his investigative report and it will be filed away in a secret library for future historians to read. He discovers strange situations going on in the land, including a spaceship and many flying orbs, strange skin-eating diseases which result when people look at 1000 year old gold that was excavated and forms a mysterious pattern when placed together like a puzzle, reports of werewolves and gumihos and cannibalism, and more.



I can read faces -- and this one has the It Factor


He is joined by a mysterious woman investigator - and iron worker! - named Yoon Yi Heo (attractive actress Jung Eun Im, who was new to me) but don't expect much romance to speak of. She's a cautious, rather analytical character, not emotional. They grow to care about each other but there are no kiss scenes, only longing glances on occasion and a romantic dreamlike ending on a beach. K-dramas are experts at that kind of stuff.



Jung Eun Im played a capable female in Joseon -
will wonders never cease!


His right hand man -- comic relief -- is played well by Hee Bong Jo, who played Gianna Jun's two-faced agent in My Love From Another Star.

Each episode gives them - and you - another weird case to explore. This isn't one for the kiddies, or the squeamish, it's quite violent. For example, in one of the first scenes a man is beheaded. I have to confess I had to turn my head away for many scenes in this drama! The only reason I really stuck with it was to ogle Kim Ji Hoon. Me Bad. ;)

Only watch this if you are a fan of Kim Ji Hoon or a fan of science fiction or a fan of Joseon era stories. Otherwise you won't miss much.

~~~~~~~~~~~

HOME TO KOREAN DRAMA REVIEWS Ji Hoon even looks gorgeous on breaks in between scenes!
Why aren't there any men like him in my neck of the woods?
LOL!