Ruler Of Your Own World
네 멋대로 해라 (2002) MBC 20 Episodes
Romance, Melodrama, Comedy,
Grade: B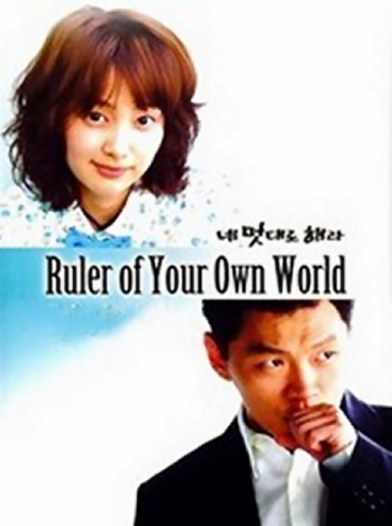 Korean Drama Review by Jill, USA
~~~~~~~~~~~~~~~
Ruler Of Your Own World has often been called the best K-drama of 2002 (though for my money Winter Sonata is a much bigger romantic heavy-hitter and has lasted longer in people's memories). It was not a big hit when it was originally aired, but it has slowly built up a loyal following over the years among K-drama fans of all ages who are looking for something different. The acting was realistic and sincere, and it did keep my attention (though 16 episodes would have been a much better length for this one), but for me there was a lack of sensual excitement that I missed between the lead characters, though they ended up being very admirable people whom I liked. Perhaps because the lead male actor was not classically handsome and his personality was perhaps too childlike and hyper for me to find attractive, I just had troubles being bowled over by this one. My fault, not the show's. I liked it but was not crazy about it.

However, my friend Alison very much fell in love with it -- I think it's her Thank You - a likewise unpretentious, humble and sincere K-drama put out a few years later by the same writer, production team, and with some of the same cast members. That show too depicted salt of the earth characters who were not sophisticated, who were dealing with a potentially fatal disease of a child (though it did not define them), but who strived to do the very best for others in their lives, despite the costs to themselves. Thank You is the one I fell in love with (Jang Hyuk!), and it will probably always be in my Top Five.

To read Alison's much more excellent review of Ruler Of Your Own World, please go HERE.



The plot of Ruler Of Your Own World seems to be pretty typical K-drama fare on the surface: a petty criminal gets a fatal illness (brain tumor) and falls in love with someone who isn't really suited to him, while on the sidelines waiting for his re-commitment is his old lover who is more his type. However, Fate has different plans for all of them.

Bok-su Go (Dong-geun Yang) has had a difficult childhood and served time in prison. He has a longtime girlfriend, Mi-rae Song (played by Hyo-jin Gong of Master's Sun and Thank You), who is a cheerleader of the LG Twins. Jeon Kyung (played by actress Na-young Lee), a tomboy and daughter of a rich family, is the keyboardist of an indie rock band and ends up growing close romantically with Bok-su, though the set up of their relationship with one another is ironic and challenging to believe at first. It turns out that the lead female vocalist of Jeon Kyung's band suffers a brain injury due to an accident, and her fellow band members try to earn money for the surgical procedure that might save her life. Kyung begs her hard-hearted father for the money but he refuses. One day Bok-su steals Kyung's purse which contains the money the band members had earned for the operation for the hospitalized friend. The friend dies. One would think that alone would forever nix the development of a romantic relationship between Bok-su and Jeon Kyung, but redemption, and forgiveness is the order of the day in this K-drama, with Bok-su trying to turn his life around to atone for his sins. When she ends up with Bok-su romantically, and the walls start coming down between them, Jeon Kyung discovers new levels of strength within herself.



The progression of the characters and their ongoing relationships is so natural in this show; not too many "nail-biting" cliffhangers or plot devices to make you feel you want to marathon the show. It simply gets under your skin slowly, quietly, in its own appealing, down to earth ways. We do get another romantic interest thrown into the mix with the arrival on the scene of attractive music journalist Dong Jin Han (handsome actor Dong Gun Lee from Friends and Stained Glass). He is attracted to Jeon Kyung, and vice-versa, for a time, but Fate once again steps in with surprises in store for the audience.




As it was in Thank You and Scent Of A Woman, this is NOT a story about a person's disease, but about the mature development of the characters and how they deal with the changes in their lives as a result of the disease. The secondary characters are also interesting, like Bok-su's ailing elderly father, played by wonderful veteran actor Goo Shin (Thank You, I'm Sorry, I Love You). Since in real life sicknesses affect human beings and their behaviors much more often than is usually depicted in the more sophisticated K-dramas, it's refreshing to see them covered here so honestly. No one is going to stay 25 and healthy forever! Does that mean they do not deserve love?

Ruler Of Your Own World has a lot of merit, and provides you with a warm fuzzy, satisfied feeling that stays with you for quite a while after finishing it. It's highly recommended if you are getting tired of the more typical K-drama fare of flower boys and revenge dramas, and are looking for a show with characters you might even meet in your own life. You can buy a legit release DVD set on Amazon. Enjoy!