All this time we are treated to many surreal scenes centered around a lunatic named Bong Gu Kim (American name John Mayer, played devilishly well by actor Je Moon Yoon) who is the head of a huge and filthy rich military industrial complex and secret society called simply M. He just has to pick up a phone and alter history. It seems that politicians in most countries owe him big time. His favorite piece of music is Wagner's
Ride of Valkyries
because he heard it was the favorite piece of Adolf Hitler, and he plays it constantly. He even murders his own bedridden father to this tune, and taps with a pen on each beat as his father is poisoned through his IV. Of course the audience knows that this is the same individual who wrote on the frosty window pane, "I AM KING". He has various henchmen - and a totally psycho hit woman who dresses like a Goth from America - to do his ugly work for him while he sits in palatial luxury. However his real intention remains to become King once he destroys the two brothers in South Korea.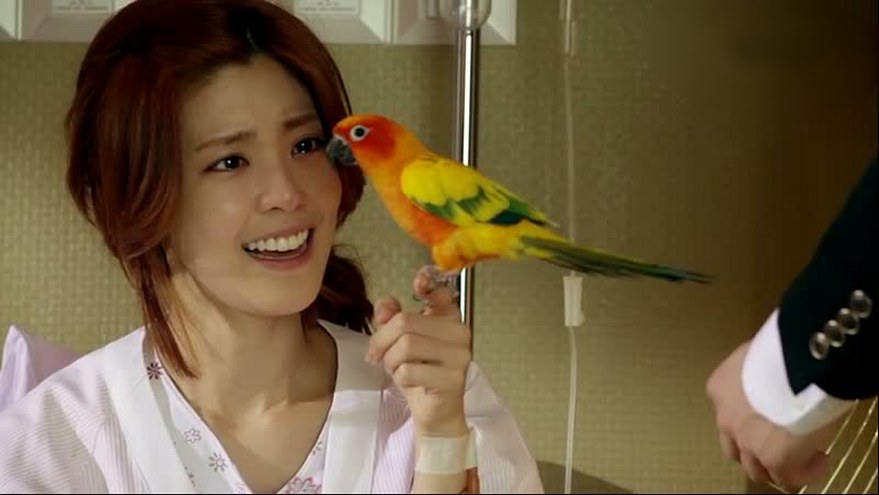 M succeeds in having King Jae Kang murdered along with his wife and makes it look like a suicide. They were at their vacation home and were gassed while enjoying a glass of wine together. He also orders the insane American Goth woman to kill their daughter, the Princess Jae Shin (Yoon Ji Lee in a beautiful performance) but she ends up living and paralyzed from the waist down, and has memory blockages about that hideous day when her brother the King was murdered.
Jae Shin had been secretly in love with officer Shi Kyung Eun for awhile, and he is made her bodyguard after the attack on the Royal family. He falls more deeply in love with her than ever and gives her a pet parrot to cheer her up. (How I wanted that adorable birdie! It was so colorful and cute!). She has the bird with her all the time as she moves around the palace in her wheelchair. During her convalescence she becomes very close to Jae Ha's intended Hang Ah and they become friends. Jae Shin's struggles to recover from her attempted murder by M provides us with some of the most emotional scenes in
King 2 Hearts.


Meanwhile the WOC war games are on internationally and the South-North Korean team has to fight against .... the Americans! Who will win?