KDRAMALOVE KOREAN DRAMA REVIEWS
The Winter, The Wind Blows

그 겨울, 바람이 분다
(2013) SBS 16 Episodes
Romantic Melodrama,
Grade: A+ (Masterpiece)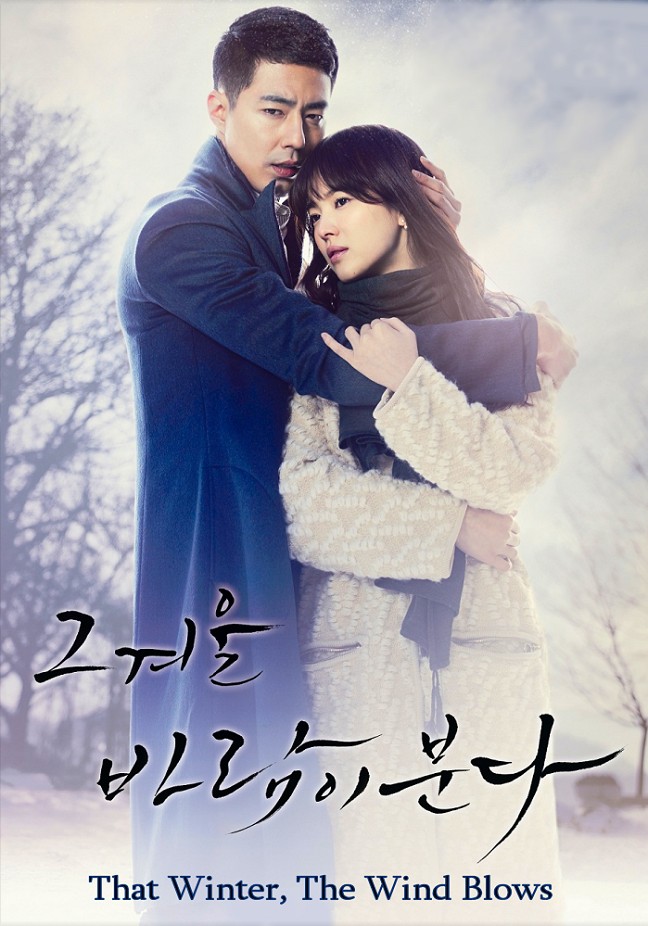 Korean Drama Review by Jill, USA
~~~~~~~~~~~~~~~~~~~
That Winter, The Wind Blows (2013) is a seriously riveting romantic melodrama that will hook you and keep you addicted, from its first moments up until the dreamy, exquisite conclusion. The ensemble acting of the whole cast and the beautiful, powerfully emotional screenplay are flawless, and there are some great plot twists and surprises for those who don't care for predictable stories. The cinematography is stunning, especially one key scene where the lead male carries the lead female piggy-back style up a winter hill and tells her to listen to the light tinkling of the icy tree branches! The music soundtrack - OST - is utterly gorgeous, one of my top favorites in the Korean drama genre. Loosely based on a 2006 film called Love Me Not, starring Geun Young Moon, this sixteen episode drama is far more interesting than its predecessor, exploring the sometimes dark motivations of the main characters far more deeply than the film ever could at under two hours. You WILL shed tears during That Winter, The Wind Blows, so please stock up on tissues to cry into before you watch it.

This drama is a tour de force for its two main leads, Song Hye Kyo (of Autumn In My Heart fame and more recently Descendants of the Sun) and Jo In Sung (best known for the K-drama What Happened In Bali more recently It's Okay That's Love and Dear My Friends, and films The Classic and A Frozen Flower). I had admired them greatly before watching this magnificent drama but after this my admiration jumped by leaps and bounds for them both. I was totally engrossed in their characters and how they slowly warmed to each other, from a beginning which was heavily built on mistrust and suspicion.




The Story: Hye Kyo plays a blind heiress named Oh Young who lives in a mansion that is more like a prison than a home. When we first meet Oh Young her father is in a coma and her father's long term mistress and live-in companion, Secretary Hye Ji Wang (actress Jong Ok Bae), controls her life and finances. Because of the darkness of her life and its hopelessness poor Oh Young is sometimes suicidal.




When Oh Young was a child her parents went through a bitter divorce; she went with her father, and her brother Oh Soo (played as an adult by actor Jae Woo Lee) went with the mother. Oh Young never saw her mother again but always hoped to one day be re-united with her brother. As an adult her sweet and nice brother tries writing to her but each letter is intercepted and hidden by Secretary Wang.

Finally one letter slips through when Wang misses the postman and Oh Young asks the postman to read the name and address on the letter she has received. Shocked to hear from her brother, whom she deeply loved in childhood, she takes the letter and goes by taxi to the address on the envelope. She rings the doorbell of the luxury apartment but her brother is not home: the person who IS home sleepily turns on the intercom and tells her the person she is looking for isn't there. This man is a friend of her brother and has the same name as her brother, Oh Soo (Jo In Sung), but he is a con man, a gambler, and a card shark.





Kill or Save?



Oh Young decides to wait for her brother and does so for several hours outside the apartment complex. When the "other" Oh Soo finally leaves the apartment he runs into Oh Young and takes pity on her due to her blindness, reading the letter her brother wrote her (omitting any revealing description of himself!); as he concludes the letter he is alerted via cell phone call by his best friend Jin Sung Park (popular actor Beom Kim from Boys Over Flowers and Padam, Padam) that some gambling henchmen are after him, so he goes running.

At the same time Oh Young receives a call that her father is dying and to hurry home. She struggles to walk down the street, using her walking stick, in an attempt to hail a taxi. Oh Young's brother happens to see his friend Oh Soo running away from the henchmen and chases after him, but fails to look both ways before entering the street. He is hit by a car and killed instantly, as his friend Oh Soo stops in shock and looks back at his dead friend. Tragically, the blind Oh Young is nearby and calling for a taxi while her own brother is dead just a few yards from where she stands! She doesn't learn for a long time what happened to her brother.




Her father dies under suspicious circumstances and Oh Young is even more in the clutches of this controlling woman Secretary Wang, who also has a large say in how her father's business is run, along with an attorney for the family, Jang Sung (Gyu Chul Kim). Both Secretary Wang and Lawyer Jang Sung seem on the surface to have outward affection for Oh Young, but it's often patronizing and manipulative, so the audience can't help but wonder if their affection for her is genuine or not. True love seeks to edify and liberate, not keep the loved one bound in darkness, literal, spiritual, emotional and financial.

Meanwhile, the con man Oh Soo is told by the operative for his enemy, Mu Chul (actor Tae Woo Kim, from the horror film Epitaph, who gives an outstanding performance as the villain!), that he must come up with several million won (Korean currency) to pay back his boss, and he will be given three months to come up with the money or suffer the consequences (the threat of death). Oh Soo had been having an affair with the mob boss' girlfriend, named Sora Jin (actress Hyo Rim Seo from Scent Of A Woman and Master's Sun), so the boss wasn't exactly interested in treating Oh Soo in a gentle fashion! Sora was the one who had stolen the money from the boss in the first place, in a failed effort to blackmail Oh Soo to come back to her.




Oh Soo has the brilliant idea of taking on his dead friend Oh Soo's identity, especially when he learns that Oh Young the blind sister is an heiress. He and his friend Jin Sung design an elaborate ruse to introduce Oh Soo to Oh Young as her long lost brother. They show up at Oh Young's mansion with the intent to claim Oh Soo's part of the dead father's estate, but Oh Young is cool and distant and demands proof that this man is actually her brother. The con man Oh Soo had even scarred himself with scalding water to leave a mark on his arm where the dead Oh Soo had had a scar. This shakes up Oh Young a bit but she still is on her guard. Oh Soo and his buddy Jin Sung move into the mansion but learn it will be up to Oh Young herself to give her "brother" any money from her father's will.

So the two con men begin to manipulate Oh Young emotionally. She is fragile and longing to be loved, so little by little their efforts at friendship and intimacy wear her down. Then she even begins to be attracted to Oh Soo and that's when real danger begins to lurk for both of them. Even the cold and calculating Oh Soo begins to warm to this beautiful girl who truly needs a good friend in her life.

Then the relationship between them deepens even more when it is discovered that a brain tumor that Oh Young had developed in childhood (which supposedly had caused her blindness) has returned. Oh Soo reaches the point where he will do anything to save her life, even appeal to Mu Chul on his knees to beg his sister, a neurosurgeon, to operate on Oh Young. However, Mul Chul hates Oh Soo because they had both loved the same woman as young men, Hee Jo Moon (actress Soo jin Kyung from Shark), but she had chosen Oh Soo to love instead of Mul Chul, which eventually cost the young woman her life.





The Green Room Kiss



How long will Oh Soo get away with his ruse? What will be the effects on Oh Young when she discovers the truth, not to mention the reactions of those who care for her and look over the father's estate, Secretary Wang and Lawyer Sung? How will Oh Soo possibly get any money to pay off the criminal boss and save his hide? What will happen to his best friend Jin Sung and his family and girlfriend Hee Joo (Eun Jee Jung) who was also emotionally invested in the outcome, since it was her sister Hee Jo who had died due to Oh Soo's negligence?

That Winter, The Wind Blows is a tremendously poignant, exquisite, and romantic melodrama that you will never forget. It will stay in your heart for a very long time. There's a gorgeous 10 DVD Director's Cut box set released on Region One with a book included and that is available for purchase on Amazon (I bought it for posterity). To buy the beautiful soundtrack please go here.

Don't miss this fantastic drama!