I'm Sorry, I Love You

미안하다 사랑한다
(2004) KBS 16 Episodes
Romantic Melodrama / Classic /
Grade: A+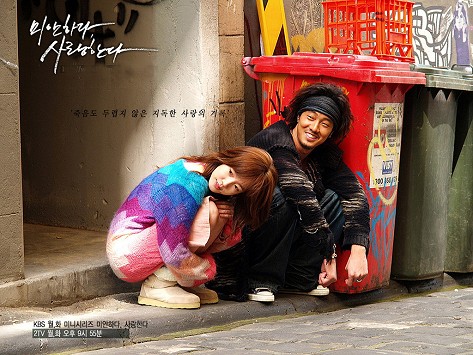 Korean Drama Review by Jill, USA
~~~~~~~~~~~~~~~~~~~~~
I'm Sorry, I Love You (2004) was a 16 episode, monumental and historic Hallyu television hit series made by Koreans, but popular all throughout the Asian world, and the K-drama that launched countless viewers around the world, even in the West, into the magnificence of Korean drama for the first time.

I'm Sorry, I Love You (otherwise abbreviated as MISA, for "Mianhada, Saranghanda" in Korean) is a thoroughly addictive show, because it develops its plot lines slowly, passionately, and you really begin to care about the characters; you grieve when they are sad, and are joyful when they are happy. The leads are all very attractive people (especially the awesome and incredibly handsome Jisub So as Mu-hyeok, and the little dynamo Su-jeong Im as Eunchae, who was brilliant in the Korean classic horror film A Tale Of Two Sisters), and their acting is realistic, intense, evocatively emotional, and often funny as well. The music soundtrack (OST) is beautiful too - so popular that KBS released two different CD sets for it), and the production values are excellent. It was filmed on location in Australia at the beginning of the show, and then the story moves to Korea.


The story revolves around Mu-hyeok Cha - a street hustler, petty gangster, growing up homeless in Australia after his Australian adoptive parents evicted him as a young man - who is shot in the head at the wedding of a woman he loved, Ji Young Moon (actress Yeo Jin Choi). She was marrying a rich gangster for his money, yet Mu-hyeok, still deeply in love with her, risks his own life to save hers when an assassin shows up to kill the wedding couple. He throws himself into harm's way to save her. The doctors cannot remove the bullet that lodged in Mu-hyeok's brain as he tried to save her, and they give him only a few months to live.

Ji Young gives him a lot of money and tells him to return to his homeland of Korea to die. He goes and makes a search for his birth mother, named Deul-hee Oh (actress Hye-yeong Lee from Boys Over Flowers), whom he believes gave him up for adoption because of financial hardship. When he finds her he is shocked to discover that she is rich, lives in a mansion, and has another grown son named Choi Yune (played by

actor Kyung Ho Jung)

who lives with her in luxury, and so Mu-hyeok purposely doesn't reveal his identity to her, but instead plans to take his revenge on her and his pampered younger brother.


Along the way he discovers he has a mentally-challenged twin sister named Seo Kyung Yoon (an outstanding performance by actress Hye-Jin Jun), an adorable nephew named Galchi (cutie-pie Gun-tae Park), who was born to his sister after she was raped, and he falls in love with a gentle, humble girl named Eunchae Song (Su Jeong Im), who works as a personal assistant for his famous singer brother Yune, but who comes from a poor, dysfunctional family who neglect to give her the love she requires, including her emotionally distant parents (actor Young Ha Lee and actress Hye Ok Kim), silly older sister Sook-Chae (Ji Yeong Ok), and hilariously funny younger sister Minchae (Hwa-Young Jung). Eunchae is at first attracted to Yune, and thinks she loves him, but then begins a growing interest and attachment to Mu-hyeok. He just seems so lonely that her heart goes out to him. Meanwhile, Mu-hyeok is intentionally trying to target Yune's love, Min-Joo Kang (actress Ji-young Seo), in a sexual ploy to further hurt his brother.

Every single actor in this show is perfect for their roles, including a secretive adopted "grandfather" named Hyun Suk Min (wonderful actor Goo Shin, from the great K-drama Thank You, written by the same writer of I'm Sorry, I Love You), who watches over the mentally challenged adult sister and nephew of Mu-hyeok, but who has his own private agenda of revenge, which is revealed later in the drama.


Over time Mu-hyeok begins a mellowing process, as he falls deeper and deeper in love with Eunchae. Will he continue to cling to bitterness and revenge until the end of his life, or will he find the grace to forgive those he believed wronged him? Many surprises are in store for the viewer (and Mu-hyeok!) during this series, right up to the last scenes. There is also some wonderful humor to relieve the dramatic tension. Jisub So and Su-jeong Im have a potent chemistry together seldom seen on screen in either films or television shows, even in the very best K-dramas. They don't require words to communicate with one another .... simply being in each others' presence, and gazing at one another in rapture .... suffices. This is the kind of love and attachment so many people yearn for in their lives but never find. I personally feel that Mu-hyeok is drawn to the motherly side of Eunchae, since he lacked a real mother for most of his life. This is seen in several scenes, for instance when she helps a child in distress, or rescues a stuffed animal carelessly thrown away. Mu-hyeok is amazed at her devotion toward anyone or anything in distress. It causes him to begin to re-evaluate his own sad, bitter life.


I really adored this show. I have watched it several times over the years and always see something new in it; it remains etched in my heart forever, my top favorite romantic Korean drama despite the dozens I have watched, and everyone I have recommended it to has become just as hooked as I was! It's just as addictive as those famous British - PBS series such as Upstairs, Downstairs or The Forsyte Saga or The Duchess of Duke Street - made in the West in the 1970's! Except the stars are all Korean! Or just as addictive as Downton Abby is today!

Don't miss seeing I'm Sorry, I Love You. It is unique and special in the world of K-drama, utilizing few conventional K-drama storytelling stereotypes. You will shed many tears watching this drama, so stock up on Kleenex.


~

These last two images sum up the tragedy of Mu-hyeok's motherless life

~

On an episode of the Korean show Star Date, nine years after I'm Sorry, I Love You was made, the interviewer asked Jisub So fans, while he was in earshot, "What is your favorite Jisub So drama?" and without exception all of them said, "I'm Sorry, I Love You!" The interviewer then asked actor Jisub So what he thought about I'm Sorry, I Love You so many years later, and he looked directly into the camera and said, "The best drama ever made." Confirmed by the best actor in South Korea! Do not miss it for the world!