Gae Hwa's good example in caring for a child who is not even her own biological child causes Min Woo to gain maturity very quickly as he learns to accept and love his daughter and becomes something unexpected in the process - a good actor. He also starts to fall in love with Gae Hwa, especially when he sees her divorcing employer spending quality time with her, enjoying her company because his wife Jung Ah Han (Jung Hee Moon) has cheated on him and broken his heart. Jealousy rears its ugly head in Min Woo's heart and causes him to start to ignore a crush he had had on an actress Yu Ra Hong (Han Byul Park). The neglected crush tries to worm her way back into his affections and takes his little daughter shopping -- however, she loses track of the little girl in the store and everyone runs frantically around the store trying to find her, panic-stricken since she is mute so she cannot speak up for herself. Time is of the essence.

And then comes the moment that made me burst into tears because it was so unexpected and touching. Little Ye-eun is walking by herself, lost, and then sees a big giant cardboard cut out of her father the star. She stops walking, takes the cardboard hand of her "father" and looks up at his "face". She isn't going to move from this spot and Min Woo turns a corner and sees her there holding his "hand". I sobbed for three minutes and my daughter had to come over and pat me on the shoulders. "These damn Korean writers" I said through my tears. "Only they can do something like this to me."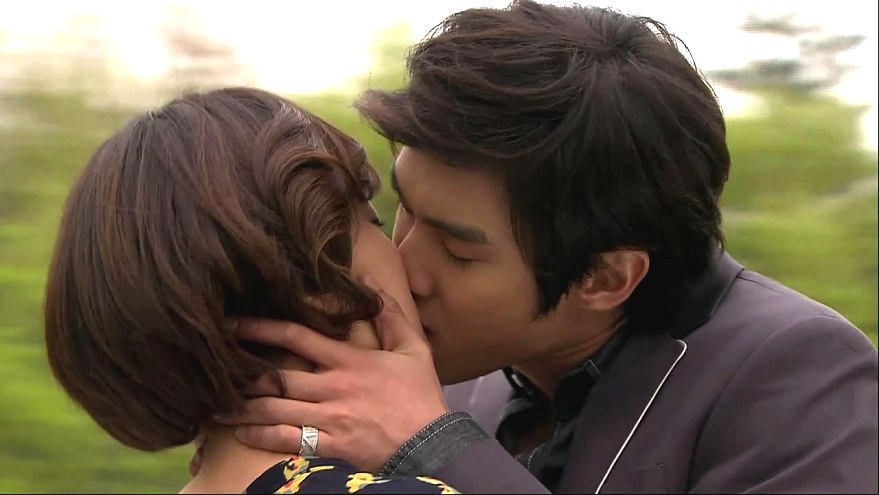 Will the paparazzi find out the truth about Min Woo's domestic life? If so, will the coverage destroy his career? What about the success of the musical? Will the financial backers pull out their support if a scandal erupts? What about Min Woo's trust and love for Gae Hwa? Will a scandal destroy that too? Will Gae Hwa lose her job and any chance to win back custody of her own daughter? Is there any chance they can be together as a family?
Don't miss this heart-warming show especially if you are a fan of Siwon or Chae Rim. It's terrific.
I love dramas where you see people growing stronger as human beings, less selfish, more sacrificial and giving toward one another. Siwon was amazing, such an under-appreciated actor. Chae Rim at first annoyed me but quickly won me over with her sincerity in playing this difficult "ahjumma" (older woman) role. Her love for a child that wasn't even her own child was beautiful and inspiring. Also enjoyed the secondary characters and the music. Oh! My Lady is a crowd-pleaser and a winner.