Angel Eyes
엔젤 아이즈
(2014, SBS) 20 Episodes
Romantic Melodrama,
Grade: A+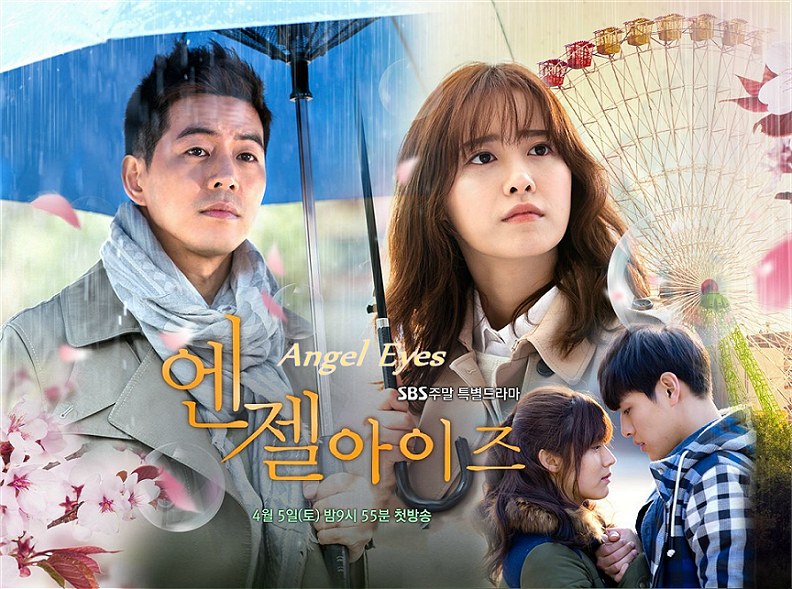 Korean Drama Review by Jill, USA
~~~~~~~~~~
Angel Eyes (2014) is a haunting, beautiful Korean melodrama, created in a bittersweet, old-fashioned, classic style of drama-making that I have missed a lot lately. I promise this drama will have you crying at least once per episode. Even those of you who rarely cry at Korean dramas will cry at this one. I guarantee it.

There are many simply unforgettable scenes in this twenty episode weeper. Also the OST is one of the most exquisite I've heard in years; both vocal songs and instrumental background pieces do a lot to bring even more sweet pathos to the story of a blind girl who is given a second chance at life and love, although someone's priceless, unselfish mother ends up dying and giving her those precious gifts.




Full OST



The Story: We start the drama in the first two episodes following the lead couple as teenagers, and then in the third episode we begin to follow them as adults after a twelve year separation. This is a common story structure arc for many classic Korean dramas, but here in Angel Eyes this story set up is the most poignant I've ever seen in my long history of K-drama watching. It was a big jolt at first for me to transfer my affections from one set of actors to another, but both sets of actors did such an outstanding job that I ended up loving both equally.


THE STORY: As a nice, responsible, smart, and well brought up teenager, Park Dong Joo (incredible actor Kang Ha Neul from the film Dong-ju: Portrait of a Poet, dramas Missing Noir M, To The Beautiful You, Two Weeks, Heirs), a young man who lost his firefighter father tragically in a tunnel collapse, falls in love with a motherless, beautiful blind girl named Yoon Soo Wan (Ji Hyun Nam from Will It Snow At Christmas?), a sad and neglected girl whose doctor father (Jung Jin Young from Love Rain) ignores her and lets her live alone in a big house by herself, so she has little human contact until she begins to fall in love with the kind Dong Joo, who home delivers his mother's porridge to her door every morning. It turns out Soo Wan's mother had been in the process of being rescued by Dong Joo's father during the tunnel collapse but neither had survived. It's many years later that our couple discover the truth that connects them from their childhoods.


Both boy and girl love the stars; Soo Wan has a part time job at a planetarium giving lectures, and several meetings they have there bring them closer together. There's even an incredible bungee jumping scene, where Dong Joo and Soon Wan jump together as part of her birthday gift. He teaches her how to ride a bicycle and when she falls off and into his arms she feels his face for the first time and jokingly calls him ugly.


Dong Joo is blessed in that he has a mother and little sister who love him devotedly. The love and respect between mother and son is the most beautiful mother-son relationship I've ever seen in a K-drama. It's almost to the point that the real love story in this show is between mother and son, on a sort of metaphysical, mystical level that's extremely rare in K-dramas. He doesn't even call her mother; out of respect for his late father, who always called her Mrs. Jung-hwa Yoo-shi, he also calls her by that name too.


The mother character is played brilliantly by actress Yeo Jin Kim (from Trot Lovers and Pride and Prejudice) who conveys a loving warmth in her role that is unequaled in K-drama history (most K-drama fans know that the vast majority of mother and mother-in-law characters are bitchy in these stories, or simply just not that involved in their children's lives to any great extent). How refreshing it is to see a completely devoted and sacrificial mother, who can love not only her own children, but a motherless child as well, Soo Wan, her son's blind girlfriend.

In one heart-tugging scene, when Soo Wan is notified that she lost out on a possible eye transplant surgery, she goes into the mother's bathroom to cry, and Mrs. Jung-hwa Yoo-shi follows her in and tells her that she is pretty and that she still has people who love her. It's so touching to see someone's blind eyes crying and a mother saying "If it's what it takes, I want to give you my eyes."


For the first time Dong Joo calls his Mother "Mom" in grief ...
but she can't hear him

....

The unthinkable happens and the Mom is struck by a hit and run driver while making deliveries for her son who was home sick with a fever; she is brought to the hospital to have surgery, and before it occurs she signs an eye organ donation form that says if she dies that Soo Wan should get her eyes. The mentally troubled doctor-father of Soo Wan is tempted to do something nefarious to his patient to make sure that the Mom dies so that his daughter can receive the eyes, but unknown to him someone had injected her first with a lethal drug in an attempt to cover up the hit and run crime that person had caused, and at the last moment the father's conscience seems pricked and he struggles to save her life instead, but it's useless. She dies and Soo Wan, unaware of Dong Joo's personal tragedy and his mother's donation to her, agrees to immediate eye transplant surgery so she can see again.






Dong Joo is now a grief-stricken orphan at 18 years of age, but he has to take his little sister to America for some pre-planned medical treatment that she needs. He leaves a note for Soo Wan in her hospital room, and promises to return to her as soon as he can, but twelve years go by before he can fulfill his promise.

Unknown to both of them, any notes or letters Dong Joo writes to Soo Wan are confiscated by her troubled father, who feels guilty over the death of the mother, so Soo Wan grows to maturity able to see, but never knowing what happened to her first love. She felt betrayed and abandoned by him, but moves on with her life as a seeing person, becoming a paramedic to save others, and getting engaged to a nice doctor at the local hospital, Ji Woon Kang (played by Kim Ji Suk from The Vineyard Man and Personal Taste). Soo Wan as an adult is played by the winsome Gu Hye Sun from Boys Over Flowers fame. It was delightful to see her again.


Dong Joo (Lee Sang Yoon) looking into his
Mother's eyes for the first time in 12 years ...
only they're now Soo Wan's eyes (Gu Hye Sun)

In the meantime, the adult Dong Joo (now played by cutie pie Lee Sang Yoon who has some amazing scenes in this drama!) has returned to Korea and has become a successful surgeon with a new American name. He is employed at the local hospital. When the couple's paths cross twelve years later, he recognizes her with joy, but she has no idea who he is. When he learns she is engaged to another man he keeps quiet about his true identity, so whenever their paths cross when she brings in new emergency patients they interact on a professional level more than a personal one. At first.




Favorite Scenes from Angel Eyes


Little by little the smart Soo Wan begins to suspect the truth. Will they ever have a second chance at happiness, with so many obstacles in their way? Will they ever discover who killed Dong Joo's mother? How will Soo Wan react when she learns about his mother's supreme sacrifice for her? She may live her life as an adult now but she's still dealing emotionally with all the trauma that befell her when she was young.


Actor Lee Sang Yoon, who was new to me when I first watched this drama, turned out to be the biggest highlight for me in Angel Eyes. When he smiled he was radiant - as far as I am concerned HE had the "angel eyes". Those charming dimples of his could warm any woman's heart!

Don't miss this magnificent drama. I know I will re-watch it again in future, and ten and twenty years from now it will still be considered the classic that it truly is, for any age.