KDRAMALOVE KOREAN DRAMA REVIEWS

Ruler of Your Own World

네 멋대로 해라
(2002
)
MBC 20 Episodes
Romantic Melodrama,
Grade: A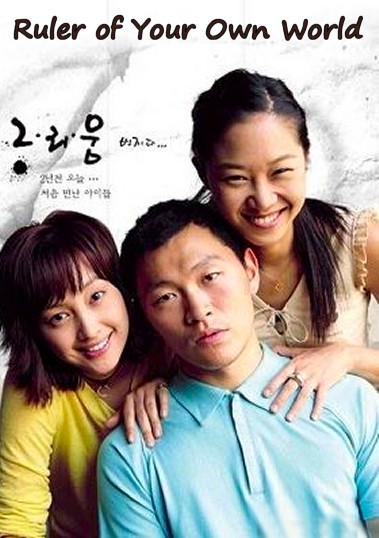 Korean Drama Review by Alison, USA
~~~~~~~~~~~~~~~~~~~~~~~~~~~~
What does it take to be the Ruler of Your Own World? This sincere, simple drama explores how one young man, Bok-su Go (played by the gap-toothed but appealing Dong-geun Yang) who undergoes a significant transformation to find meaning in his life after being diagnosed with a terminal illness.

Bok-su has not exactly had an easy life, nor has led an exemplary adulthood. When he was a boy, his father left him in an orphanage for a few years. His mother, who now runs a restaurant, abandoned them both and found another husband. He is uneducated, living somewhat ungratefully with his ailing father, and he has drifted around without much purpose, turning to the life of a petty criminal. He has already served a couple of short stints in jail and in fact has just been released from the most recent arrest when we first meet him.





Rare Full OST



One thing in Bok-su's favor is his pert, feisty, and devoted girlfriend Mi-rae Song (played by the spirited Gong Hyo-Jin, who sees real spirits in The Master's Sun). Mi-rae does not let anyone take advantage of her, and she is a refreshing influence on Bok-su, eliciting his caring side. She is smart and ambitious, working as a professional motivator (in our country, a cheerleader). Mi-rae first met Bok-su several years earlier when he stole her wallet, and though she would prefer that he take a different direction in life, she accepts him as he is. Her younger sister lives with her, and is fond of Bok-su, too. Observing his relationship with the two of them, as well as with his young half-brother, we begin to see glimpses of his good heart.



Bok-su's primary occupation is stealing wallets when the opportunity arises (often in the subway or at a bus stop). One of those wallets will belong to a young woman who will ultimately bring out the best in him and create a love triangle that is more persuasive and sympathetic than most. Stealing that wallet also brings upon a tragedy for which Bok-su must atone.

Bok-su is being pursued by a police officer who would like nothing better than to throw him back in jail – and for good reason, since the young man keeps stealing. However, he remains one step ahead of the law. Then, he grabs the wallet of a doe-eyed young woman named Jeon Kyung (Lee Na-Young, who has an offbeat, tomboyish beauty, and who ended up marrying actor Won Bin in real life). Although Jeon Kyung is the daughter of a wealthy family, Kyung prefers to live simply, and is the keyboardist of a struggling rock band (which plays rather awful music). When one of her band mates is diagnosed with a fatal brain disorder, Kyung asks her father for the money for an operation; he refuses. The band members raise the money themselves, and Kyung is entrusted to bring it to the hospital.

Enter Bok-su, who casually steals her wallet. This time, however, the crime is not so petty. With the money lost, the operation cannot happen, and the friend dies.



Bok-su's action is one that will ultimately lead him to redemption in a number of ways. He also experiences another life-changing event. He learns that he has a brain tumor, with a terminal prognosis. Like most people, Bok-su must find a way to deal with his own mortality; will he remain on the same futile path, or try to make his final days count for something?

The young man chooses the latter – compelled to do so when he finds out that stealing Kyung's wallet led to someone's death. He feels guilt and remorse, and somehow, wants to earn forgiveness for the sins of his past. With these elements in motion, Ruler of Your Own World really takes off and becomes a sweet, uplifting drama about making the most of your life and how it is never too late to be a better person. Bok-su shows us that he can be much more than a thief, and as he opens up his heart, he becomes a hero you can root for.

Bok-su's counterpart is Kyung, who is also struggling to find her place in the world and meaning in her life. She is lonely and diffident, yet she is also a decent, caring person. Bok-su is determined to beg her forgiveness, but of course, she wants nothing to do with him. His selfish, careless act had resulted in a deadly consequence, after all. Still, their repeated encounters create a spark and a connection between them, she sees that he is sincere, and she is touched by him. They share a deeper understanding and a rapport, and eventually develop romantic feelings for each other, though their encounters remain innocent enough. Bok-su is torn between his loyalty to Mi-rae and a more powerful, soulmate attraction to Kyung. He loves Mi-rae and always will, but he is falling in love with Kyung, who is his kindred spirit.



The love triangle becomes a quartet when Kyung meets music journalist Dong-Jin Han (Lee Dong-Gun from Stained Glass and Lovers in Paris). He also pursues Kyung, and she has a bit of a crush on him, too. Then the quartet adds another side, as Kyung's successful brother meets and becomes interested in Mi-rae, offering her a modeling job.

However, Ruler of Your Own World does not focus solely on these relationships. We watch Bok-su transform himself by being a better son to his parents, a better role model for his young half-brother, and a better influence on his young friend Rookie (whom he previously had been teaching to be a successful pickpocket). He gets a job interning to be a movie stuntman, work that he enjoys and that gives him a sense of pride and accomplishment.

Ruler of Your Own World is a drama that becomes more effective with each episode. I found myself completely absorbed in Bok-su's life, his friends, his neighborhood, even his usual bus route. I developed such affection for the characters, all of whom seem achingly real. Bok-su is an unconventional hero, but for me he remains one of the most appealing I have ever seen, because he is earnest, tries so hard, and means so well. He is making the very best of a bad situation, and maintains a cheerful, can-do attitude most of the time. Although Bok-su does not want to hurt anyone, sometimes he does, and when he does, it hurts him as well. The courtship between him and Kyung is tentative and shy, never really crossing the line of loving, close friendship because of his commitment to Mi-rae. I found their pleasure in simply being able to spend some time together incredibly touching and believable.

I think your enjoyment of this drama will depend on whether you develop the same affection for these characters that I did. I found myself caring very much about all of them, especially Bok-su. Credit for that sympathetic characterization must go to his portrayer, Dong-geun Yang. He is also a hip-hop artist, and certainly does not look like a movie star. He is pleasant looking, but he has a square face and blunt features, and is not classically handsome by any means. Yet he has enormous charisma and the ability to project sincerity and decency. He is straightforward and convincing, and never seems to be "acting".

Kyung was apparently a breakout role for Lee Na Young, who went on to star in the K-drama Ireland and the popular feature film Please Teach Me English. I found her very appealing; she somehow comes across as both delicate and resilient, and her beauty is unusual. Kyung is bullied by her father, but she firmly stands her ground and pursues her own dreams, rejecting his lifestyle and his lack of scruples.




Equally admirable is her hardworking, assertive romantic rival, Mi-rae, played by Gong Hyo-Jin with a pixie like charm. This actress just bursts through the screen with personality. She is not a conventional beauty either, but she is very cute and funny. One thing I liked most about Ruler of Your Own World was its depiction of these two very different young women. They were both so likeable, and against my expectations, when they finally meet, they actually treat each other respectfully, like adults, rather than having the typical female catfight over the male. Both Mi-rae and Kyung are goodhearted, and they become allies in a way due to their love and concern for the same man. Their interaction was so refreshing to me and really made me admire them both.

As Han Dong-Jin, actor/singer Lee Dong Gun is boyish and attractive. He also comes across as a bit immature (compared to the simple masculinity of Bok-su) and eccentric, which is probably very fitting given his attraction to the equally offbeat Kyung. Veteran actor Goo Shin (who appeared with Gong Hyo-Jin in Sang-doo Let's Go To School and as Grandpa in Thank You) is excellent as Go Joong-sup, Bok-su's gentle, worried father, and Yoe-jeong Yoon is effective as his mother, a mercurial woman who treats her son quite offhandedly as he tries to affect a new beginning to their relationship. Her motivations are never clear, but that relationship gives Bokk-su another opportunity to earn our respect. Also in a small role as a band-mate of Kyung's, handsome young actor Jae Wook Kim made his K-drama debut. He would later go on to much more significant roles in Bad Guy, Mary Stayed Out All Night, Who Are You? and Voice.



Yes, that is Jae Wook Kim under that silly wig!
In acting you gotta start somewhere!


Ruler of Your World was another early K-drama experience for me, and it remains one of the most impactful. I literally felt I was going through withdrawal once it ended; I had become so accustomed to sharing the lives of these characters. I am not sure why I was so affected by Bok-su's story. Perhaps it was the dignity and courage with which he handles the prospect of the end of his life. The character decides to make every day count, and not just for his own satisfaction, but also to do the right thing by others to make their lives better. He learns that there are different kinds of love, and expresses it, showing kindness and empathy. I understood why two nice, intelligent women would care about him. The dialogue is often simple and natural, and the story unfolds without a lot of melodrama, considering that its hero is facing death from a brain tumor.



Though there is underlying tragedy, and I certainly shed some tears, it is not downbeat. There is humor and enormous energy, with a hip-hop inspired opening theme song that gets you into the mood as the credits roll. Ruler of Your Own World is thought provoking and life affirming, and it is among my many favorite dramas.